Dr. Vincent Malnuit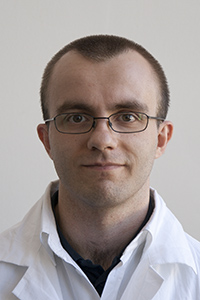 e-mail:
malnuit@uochb.cas.cz
phone: +420 220183343
Born
08.06.1984 France.
Scientific CV:
2004-2006
undergraduate study
, National Polytechnic Institute of Chemistry, Toulouse, France, BSc. degree.
2006-2007
undergraduate study
, National Engineering School of Chemistry, Montpellier, France, MSc. degree - specialization: organic and medicinal chemistry.
2007-2011
PhD. study
, Institute of Chemistry, Nice Sophia Antipolis University, France (supervisor Dr. Rachid Benhida).
2012-June 2013
Postdoctoral position
, Organic and Analytical Chemistry Institute of the University of Orleans, France (supervisor prof. Guillaumet) and Laboratoires Servier, Orleans, France (Dr. Lefoulon).
since July 2013
Postdoctoral position
,
Institute of Organic Chemistry and Biochemistry
,
Academy of Sciences of the Czech Republic
(supervisor Dr. M. Hocek)
List of publications:
| | |
| --- | --- |
| 7. | Malnuit, V.; Smoleń, S.; Tichý, M.; Poštová Slavětínská, L.; Hocek, M.: "Synthesis of Cyclic and Acyclic Nucleoside Phosphonates and Sulfonamides Derived from 6-(Thiophen-2-yl)-7-fluoro-7-deazapurine" Eur. J. Org. Chem. 2019, 5409-5423. |
| 6. | Matyašovský, J.; Perlíková, P.; Malnuit, V.; Pohl, R.; Hocek, M.: "2-Substituted dATP Derivatives as Building Blocks for Polymerase-Catalyzed Synthesis of DNA Modified in the Minor Groove" Angew. Chem. Int. Ed. 2016, 55, 15856 - 15859. |
| 5. | Malnuit, V.; Slavětínská, L.; Nauš, P.; Džubák, P.; Hajdúch, M.; Stolaříková, J.; Snášel, J.; Pichová, I.; Hocek, M.: "2-Substituted 6-(Het)aryl-7-deazapurine Ribonucleosides: Synthesis, Inhibition of Adenosine Kinases, and Antimycobacterial Activity" ChemMedChem 2015, 10, 1079 - 1093. |
| 4. | Benhida, R. ; Auberger, P. ; Malnuit, V. ; Driowya, M. ; Puissant, A. ; Robert, G.: Process for the preparation of Acadesine derivatives as antitumor agents for the treatment of chronic myeloid leukemia" PCT Int. Appl. 2012, WO2012143624. |
| 3. | Malnuit, V. ; Duca, M. ; Benhida, R.: "Targeting DNA base pair mismatch with artificial nucleobases. Advances and perspectives in triple helix strategy" Org. Biomol. Chem. 2011, 9, 326 - 336. |
| 2. | Duca, M. ; Malnuit, V. ; Barbault, F. ; Benhida, R.: "Design of novel RNA ligands that bind stem-bulge HIV-1 TAR RNA" Chem. Commun. 2010, 46, 6162 - 6164. |
| 1. | Malnuit, V. ; Duca, M. ; Manout, A. ; Bougrin, K. ; Benhida, R.: "Tandem Azide-Alkyne 1,3-Dipolar Cycloaddition/Electrophilic Addition: A Concise Three-Component Route to 4,5-Disubstituted Triazolyl-Nucleosides" Synlett 2009, 13, 2123 - 2128. |