Desing and synthesis of novel C-nucleosides for chemical biology
Novel C-nucleosides bearing diverse substituted aryl and hetaryl groups as surrogates of nucleobases are designed and synthesized for chemical biology applications. Our novel modular methodology of their synthesis is based on preparation of haloaryl-C-nucleoside intermediates that could be transformed to large series of derivatives by simple functional group transformations (cross-coupling reactions, nucleophilic substitutions).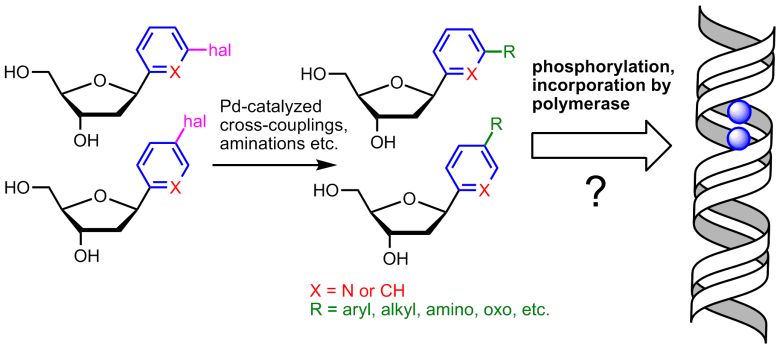 Selected novel C-2'-deoxyribonucleosides (and their corresponding triphosphates and/or oligonucleosides) are applied in collaborative projects as model substrates for DNA polymerases to study the mechanism, how these enzymes select the good or wrong nucleotides during replication (with Prof. R. Kuchta, University of Colorado at Boulder, U.S.A.), or as potential candidates for extension of the genetic alphabet (with Prof. Floyd Romesberg, Scripps Research Institute, La Jolla, U.S.A.). The corresponding C-ribonucleosides are building blocks for the synthesis of base-modified RNAs (siRNA, ribozymes etc.).